Stucco Exterior Repair
Stucco is an enduring, weather resistant, and versatile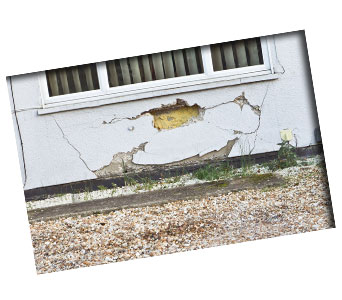 exterior wall finish that has a seamless beautiful appearance and is durability over time. However, as with anything and time it will require some attention due to exposure to the elements or external factors. In the event cracks, blisters, or damage appears or any form of breach forms, you should arrange for repairs promptly before the damage grows and more underlying problems arise.

Cracks in Stucco
Blisters in Stucco
Soft Spots in Stucco
Damaged Stucco
What happens when you ignore damage? Water can seep in beneath the surface producing chips and soft spots leading to more problems. Once your e
xterior barrier has been compromised the walls can begin to deteriorate from there. Our homes are one of our biggest investments, do not allow more damage to occur by ignoring the situation that will most likely lead to a costlier repair bill.
Turco Roofing offers professional stucco repair services. According to realtor.com hiring a stucco professional is "worth the price" because of having the "know-how to get it done" and the "supplies." If you would like to schedule a professional to inspect your home.

Call us today for a free inspection at 478-845-2419 or fill out our Request a Free Inspection form.